Community Stories
---
EL PASO'S EARLY HISTORY
El Paso has a complex history. Originally it was part of Paso del Norte and belonged to Mexico. Ownership passed to the U.S. after the war of 1846-48 when Mexico lost almost half of its national territory. With the Treaty of Guadelupe Hidalgo in 1848, the border was fixed at the Rio Grande River with El Paso occupying the southwestern tip of Texas. Through this process El Paso became part of the United States, while its sister settlement on the south side of the river, remained with Mexico. The Mexican section of Paso del Norte eventually became Ciudad Juarez, a city separated from El Paso by a river and national border, yet linked by shared history, culture, and language.
The railroads transformed mining in Mexico. Before 1880 copper was processed through a centuries-old small-scale patio method for deriving precious metals from ore. With the development of Asarco's rail system, small-scale mining operations became huge labor and technology-intensive industries whose ownership was concentrated in U.S. corporate hands and whose profits flowed to the United States. By 1912 the value of mining operations in Mexico was estimated at $323,600,000. Of this wealth, Mexicans owned approximately $15,000,000, or less than 5%. U.S. companies, with Asarco prominent among them, held over 60%. Understood in this way, Asarco was one of the first transnational corporations, and its extraordinary growth depended on the complex relationships that bound Mexico to the United States.
In 1910 the El Paso smelter was expanded to process copper as well as lead. The ores produced at Asarco's Mexican mines were transported to El Paso to be smelted. Mexican workers also crossed the border to work at the smelter, swelling the population of the developing city. In 1890 the population of El Paso was approximately 10,000; by 1910 it had reached 39,279; by 1925 its numbers had virtually doubled to 77,560. The population was, and continues to be, primarily Hispanic.
The Asarco smelter was central to El Paso's economy. By 1927 The El Paso Herald reported that the smelter employed 800 workers and commanded a "million dollar payroll". In 1929 the El Paso Evening Post described the smelter as "the largest and practically the only customs smelter of its type in the world." "During an average year," the Post wrote, "the El Paso smelter…receives more than 310,000 tons of copper, 30,000 tons of lead, 61,000 ounces of gold and 5,000,000 ounces of silver." The wealth produced from this vast quantity of metal was estimated at $22,000,000 for the preceding year. In 1948 the plant was again expanded to incorporate a zinc smelting facility.
Even as other businesses settled in El Paso, the smelter continued to dominate the city's industrial landscape. In 1952 Ben Roberts, the smelter's manager, addressing the Rotary Club at Hotel Paso del Norte, discussed the strategic importance of the railroads, claiming that 25% of industrial shipments arriving in El Paso were destined for Asarco.
As a pharmacist, Piñon was well aware of the dangers of lead, arsenic, cadmium and other byproducts of smelting. Piñon had observed physical problems in El Paso neighborhoods and among Asarco workers. He thought the problems he had observed could be related to smelter emissions. It was common knowledge that Asarco's emissions traveled across the border into Mexico, as well as into neighboring New Mexico, and that Asarco often waited until the winds blew towards Mexico to increase its production. Piñon was especially concerned about the people who lived south of the Rio Grande River, in Juarez.
For many years Piñon was virtually the lone voice calling for investigation of Asarco's emissions.
The media was pretty taken in by a group of people who called themselves the Industrial Betterment Council. This council was composed of leaders…within the various polluting industries of El Paso…its job was to report on the various improvements that the industries of El Paso were bringing about to change the pollution problems.

[One news writer] became the spokesperson for the polluting industries in El Paso…actually lauding the industry because of all the money that was being spent at the time on behalf of the city of El Paso. But to me, it was just a…fabrication.



Useful sources:
Isaac Marcason, Metal Magic, Farrar, Straus, 1949
Gilbert González and Raúl Fernández, A Century of Chicano History: Empire, Nations and Migration, Routledge, 2003.
Interview with Joe Piñon, El Paso, Texas, July 2006.
LEAD POISONING in EL PASO
In 1970, following passage of the Clean Air Act, the City of El Paso sued Asarco over its sulfur dioxide emissions. During the process of discovery Asarco submitted documentation of its emissions to the city for the first time, Between 1969 and 1971 Asarco's reports showed that it had emitted 1012 metric tons of lead, 508 metric tons of zinc, 11 metric tons of cadmium and one metric ton of arsenic (Landrigan, et al). On the basis of these documented emissions Bernard Rosenblum, Director of the El Paso City-County Health Department, estimated that 2700 persons between the ages of one and 19 would have blood lead levels at or above 40 micrograms per 100 milliliters—the safety standard for lead in blood at the time—and that residents within a four-mile radius of the smelter were likely to be affected. Alarmed, Dr. Rosenblum contacted the Communicable Disease Center (now the Centers for Disease Control) in Atlanta, Georgia, which sent Dr. Philip Landrigan and a team of researchers to investigate. Dr. Landrigan recalls that the National Academy of Sciences had just released a report stating:
It was well-known that certain smelters emitted lead, that it might be a problem for livestock living near smelters,but that people didn't have to worry, that lead from smelters had never been shown to be a health hazard. So that was the context that surrounded our initial trip to El Paso.
The El Paso City/County Health Department had sampled air, soil and dust in a variety of locations. Dr. Landrigan's team plotted the results in geographical relationship to the smelter.
That first study established that the smelter was responsible for lead contamination in air, soil and dust. Based on these initial results, the CDC research team conducted a pilot study of blood lead levels in children attending a nursery school in Kern Place, a prosperous neighborhood located approximately a mile from Asarco's smokestacks.
The blood lead standard at that time was 40 micrograms per deciliter. In other words, a level below 40 was thought be OK. A level above 40 was cause for concern. What we found in our pilot test of these children from the preschool nursery was that about 3/4 of them had blood lead levels above 40 micrograms per deciliter. That immediately set off alarms, because even in the worst inner city neighborhoods…we  had never seen 3/4 of the children with blood lead levels above 40.
Dr. Landrigan and his associates set up a plan to sample blood lead levels in children within approximately four miles of the smelter. They drew concentric circles around the smelter and divided them into zones: Zone One was set at a radius of approximately one mile from the smelter, and included the small Mexican-American community of Smeltertown, located immediately next to Asarco and almost directly under the smokestacks. Zone Two was set at a radius of about 2.5 miles, and Zone Three was set at approximately four miles. Dr. Landrigan recalls that in Zone One the team "knocked on every door…Zone Two was every second door, and ZoneThree…was every third or fourth door." At each household blood samples were taken; soil, dust and paint samples were also taken; and if pottery was used in cooking, the pottery was tested for lead content.
When the results were released Asarco argued that the lead did not come from the smelter, but from gasoline emissions along Interstate 10. But tests disproved this argument; the studies done by Dr. Landrigan's team demonstrated that Asarco was responsible for the lead pollution found in Zones One, Two and Three. However, the researchers confronted another problem—the lack of studies demonstrating that the lead levels they had found could cause harm to children. The National Academy of Sciences study had asserted that lead from smelters was not harmful to human health.
In those days not too much was known about the toxicity of lead in children. Pediatric lead poisoning of course had been known since the early years of the 20th century…But lead poisoning was understood as an all or none disease. Either a child got terribly sick from a high-dose ingestion, or it wasn't an issue. People treated it almost as if it was a common cold; either you're sick or you're not sick, and there was nothing in between.
The CDC team was asked by Dr. Rosenblum to design further tests to determine whether children in El Paso were damaged by their exposure to Asarco's lead emissions. Meanwhile, other interests were converging on the El Paso lead controversy. The El Paso Pediatric Society issued a bulletin stating, "there is no evidence that there is a lead intoxication problem outside of Smeltertown" (quoted in Shapleigh 19). That same year the Lead Surveillance Committee of the El Paso County Medical Society announced, "any further massive blood lead sampling outside the Smeltertown-Old Fort Bliss area is at this time unjustified" (Shapleigh 19).
Asarco also commissioned its own study which was carried out by Dr. James McNeil, an El Paso pediatrician, and Dr. Potasnick, a psychologist from the El Paso School District. McNeil's study, funded by the International Lead Zinc Research Association, a group connected to the metal industry, concluded that blood lead levels of 40 to 80 micrograms per deciliter were safe, provided a child received good nutrition. McNeil also supported Asarco's claims that the children's elevated lead levels were based on exposure to lead-based paint, rather than company emissions.*
In 1972 a Lead Surveillance Committee of the El Paso County Medical Society was formed. It included Dr. James McNeil, Dr. Bernard Rosenblum and Dr. Jorge Magaña, who would later become head of the City/County Health Department. The Lead Surveillance Committee took the position that further testing was unnecessary. They rejected a $50,000 grant from the CDC for Dr. Landrigan to continue his research. In 1973 they wrote the following letter to Dr. Landrigan:
I regret to inform you that our Board of Health unanimously voted to cancel the remaininlg portion of your study and in its place accept Dr. McNeil's study from the International Lead Zinc Research Organization.
Dr. Landrigan recalls that the team had prepared a study design and returned to El Paso in the summer of 1973.
The CDC team administered Wexler IQ tests and a finger-tapping test of physical reflexes to children. A group of children with blood lead levels below 40 was also tested, but examiners did not know which group each child belonged to.
We found a significant difference between the two groups of children. The children who had blood lead levels over 40 had an average IQ on the performance scale of the Wexler Test that was about 7 points lower than the children who had the lower blood lead levels. This was a very statistically significant detriment in the kids' IQ.

We also found they had a much slower reaction time. We had a finger tapping test we had designed that counted how many taps  a child could do in 10 seconds. And we found that the children with the elevated blood levels were distinctly slower that their peers on this test.
Dr. Landrigan's research, and the results produced by the CDC team, contributed significantly to scientific knowledge about lead. It is now widely accepted that lead is toxic at levels as low as 5 micrograms per deciliter. It is particularly damaging to the developing brains of children. Dr. Landrigan refers to this as "subclinical toxicity."
Sources:
* Dr. James McNeil Letter–Spanish version
Senator Eliot Shapleigh, Asarco in El Paso: September 2008
Interview with Dr. Philip Landrigan, September 2009, New York City, New York
CITY of EL PASO and STATE of TEXAS vs. ASARCO: The FATE of SMELTERTOWN
In 1972, as medical research teams were beginning to study blood lead levels in El Paso's children, court proceedings began between the City of El Paso and State of Texas on one side, and Asarco on the other. One focus of the case made by the city and state was the level of contamination in Smeltertown, the Hispanic community located beneath Asarco's stacks.
Smeltertown fell entirely within Zone One of Dr. Landrigan's study. Many of Smeltertown's male residents worked at Asarco; some families had lived there for generations, since crossing the U.S.-Mexico border. In her study of Smeltertown, Monica Perales argues that ASARCO, through its Mexican subsidiaries and trans-national shipping routes, helped to create a "larger industrial zone" that transformed Mexicans into industrial workers and encouraged Mexico-to-U.S. migration (Perales, 5-6). Some workers and their families followed the shipping routes across the border, settled in Smeltertown, and found work at Asarco or in nearby industries. The residents of Smeltertown built and owned their homes, but did not own the land on which their homes were located. Sewage and water systems were built by residents. Originally outside city limits, by 1972 Smeltertown had become part of the growing city of El Paso; it was an embarrassment to city officials and the company. According to Daniel Solis, a former resident, "Smeltertown essentially was an eyesore for El Paso."
Smeltertown was a close-knit, vibrant community. Monica Perales maintains that despite their marginal status, Smeltertown residents experienced a strong sense of identity that "resulted from a legacy of habitation…and was rooted in common language, immigration, work experience, socioeconomic conditions, religious traditions and cultural activities. These elements bound them together as a family, and contributed to what was a sense of 'emotional ownership' that Esmeltianos felt for Smeltertown" (Perales, 5).
The residents of Smeltertown experienced the discomforts of living with Asarco's emissions on a daily basis. Sulfur dioxide, a major byproduct of smelting, creates foul odors and can cause breathing problems and irritation of the eyes, throat and lungs. Daniel Solis, a former resident of Smeltertown, recalls:
In July and August…our folks would bring us into the house, because the smoke, the pollution, the sulfur, would settle into our community for about 2 or 3 hours every day in the mid-day when there was no breeze to take that away. When we would breathe that, we could not be outside because we were constantly coughing. So nobody can tell me that there was no ill effect on the majority of the folks that lived in Smeltertown.
Mary Romero writes that Smeltertown families tried early on to get the city to respond to problems of pollution.
Residents had organized in the 1950's in an unsuccessful attempt to get the city to pave Smeltertown streets and thus control the dust problem. Several parents had sought medical attention for children born with brain damage and other illnesses; not one case, however, had been diagnosed as lead poisoning. Past attempts to label health problems as pollution-related illnesses had been unsuccessful (Romero 35).
Daniel recalls that his young siblings were terrified of the painful injections. Because of the pain and fear experienced by the children, some families withdrew their children from treatment. Romero writes that parents felt "unable to justify the painful treatment," because the lead in the children's blood did not produce perceptible (clinical) symptoms. Some families concluded that the children's bodies had adapted to lead and were being made sick by chelation, not by lead exposure. One of her informants said,
When my children were given the medicine, they got sick. They gave the children shots in the morning and by the afternoon they were sick. [We] believed that removing the lead may have made the children sick (quoted in Romero, 34)
During the trial, Ken Nelson, Director of Environmental Sciences for Asarco, said that issues of lead contamination in Smeltertown had been "overlooked" by the company (Shapleigh, 15). Asarco officials said it had "never occurred" to them to include Smeltertown in the company's air pollution monitoring system (Shapleigh, 15). A formidable team of trained physicians and researchers testified about the health impacts on children living in Smeltertown. When the defense ended its case, Asarco chose not to present a defense. Instead, in 1972, the parties agreed to a settlement agreement that included fines, commitments to install new emissions control equipment, and a fund for medical care for children with elevated blood levels.
Perales argues that in the process leading to the legal settlement the needs and desires of many Esmeltianos were ignored. She writes, "While the company and city argued health and environmental policy, Smeltertown residents were concerned with preserving their community…In attending community meetings and telling their stories to the press, the residents continually stated their refusal to move and their desire to maintain a way of life that had existed for generations." Ultimately, Asarco and the City reached an agreement over the objections of Smeltertown residents, that community members should be evicted and the community destroyed. Because the residents of Smeltertown did not own the land on which their homes were built, they were not eligible for relocation benefits (Romero 31). Some residents were eligible for public housing, and the city arranged for them to have priority access to new public housing projects. Others simply moved away.
Mary Romero points out that the demolition of Smeltertown represented the least expensive solution for the city and Asarco. She writes, "Decontamination of the area and monitoring the health of Smeltertown residents demanded expensive economic commitments, not only from ASARCO, but from the city as well" (Romero, 31). She points to a statement by Asarco's physician that the continuation of Smeltertown would have required a greater commitments of funds and services than either the city or company was willing to provide.
If these families elect to move, it will of course simplify my job in relation to their continued exposure. If they elect to remain and are allowed to remain, then I think our interests for their children and their families should provide more than dust control. It should also provide drainage, it should provide garbage collection; it should provide sewage disposal; all of these factors as far as I am concerned are important to their makeup and their health (quoted in Romero 31-32).
The demolition of Smeltertown did not resolve the problems of Asarco's emissions. According to Romero, the issue was first defined as a community health problem, but was later redefined as a problem of lead poisoning specific to Smeltertown. She writes,
Restricting government action to Smeltertown fulfilled several objectives for various local interest groups. Business and industry were reassured that environmental policies would not threaten future growth. Workers were assured that pollution abatement would be placed second to economic stability, and therefore the chances of plant shutdowns or corporate flight were lessened…And city and state officials were able to ignore contamination and possible health threats in other parts of Texas, New Mexico and Mexico (Romero, 27-28).
Daniel Solis argues that the eradication of Smeltertown destroyed a significant part of Mexican-American history in El Paso. Like Romero, he points out that the solution chosen by the city and the company redirected attention away from the wider problems of contamination of children, workers and communities in the region. The problems resulting from Asarco's emissions have resurfaced continually over the years. Today, they continue to be the focus of community struggles with the company, as community members press for information about the reach and extent of contamination on both sides of the U.S.-Mexico border.
In 1978, 5 years after the court settlement in which Asarco agreed to install new emissions control equipment, Dr. Bernard Rosenblum of the El Paso City-County Health Department wrote that El Paso continued to have one of the highest levels of lead in air in the United States. He warned that air lead concentrations in the city were increasing.
In 1979, after several postponements, Asarco finally completed the installation of emissions control equipment at the El Paso plant. In 1982 the zinc plant was shut down; in 1985, the lead plant was closed; in 1986 the cadmium plant was demolished. In 1989 Asarco approved the expansion of copper production facilities at the El Paso plant.
Sources:
Perales, Monica. Smeltertown: A Biography of a Mexican-American Community, 1880-1973. PhD dissertation, Stanford University, 2004.
Romero, Mary, "The Death of Smeltertown: A Case Study of Lead Poisoning in a Chicano Community," in The Chicano Struggle, Bilingual Press, 1984
Shapleigh, Eliot. Asarco in El Paso: September 2008. El Paso, Texas
Interview with Dr. Philip Landrigan, September 2009, New York City, New York
Interview with Daniel Solis, excerpted from the film, Borders of Resistance (dir. Anne Fischel and Lin Nelson, forthcoming, fall 2011)
See also, Perales, Monica. Smeltertown: Making and Remembering a Southwest Border Community. University of North Carolina Press, 2010.
Many thanks to Alex Becker for his invaluable research assistance.
RUSTON'S EARLY HISTORY
The one square-mile town of Ruston, Washington is enclosed on 3 sides by the larger city of Tacoma. Located on the edge of Commencement Bay, it was originally accessible only by boat. In 1888 Denis Ryan constructed a smelter on the tide flats; in 1890 the smelter  was acquired by William Rust. Ruston was created as a company town for Rust's employees and incorporated in 1906.
Although pressures have been exerted since its inception to incorporate Ruston into Tacoma, the community has remained independent. Ruston's identity, culture, and economy have always been bound to the smelter. From the early days of strikes and employee-company conflicts, to the public health challenges of the 1970's and 1980's, to the current dilemmas and debates about its future development, virtually all of the challenges Ruston has faced have been linked to its industrial history.
The plant was unionized in 1914 by Western Federation of Miners, one of the unions that helped to found the Industrial Workers of the World. In 1916 the local became Mine, Mill and Smelterworkers, Local 25. In 1967 Mine-Mill officially merged with the United Steelworkers. Today theUnited Steelworkers is the main union involved with smelting operations nationally.
For the first five years of operation, the smelter processed lead. In 1903 it expanded to include copper smelting. In 1905 Rust sold the plant to the American Smelting and Refining Company (ASARCO), a consortium of mines and smelters led by the Guggenheim family of New York. Located on the tide flats adjacent to Commencement Bay, the smelter received ores from Montana, Idaho, Alaska and the Philippines. By 1912 lead production had ended; the company converted the plant to a specialized "custom" copper smelter with a focus on inexpensive low-grade copper ores contaminated with arsenic.
From its earliest days the smelter's emissions created controversy. Residents of nearby Tacoma complained about damage to gardens and livestock from sulfur dioxide. Newspaper reports from the period reveal ongoing concerns about odors emanating from the smelter as well as breathing problems when sulfur dioxide (SO2) emissions were particularly high.  Starting in the 1920's an ASARCO employee was designated to respond to complaints about property damage and arrange reimbursement for damaged lawns, shrubs, cars, laundry, or injured livestock or pets (Sullivan 2008). By 1909, techniques existed to capture the SO2 gases produced during smelting operations and convert them into sulfuric acid; ASARCO's strategy, however, was to build high smokestacks to disperse the contaminants more widely. Built in 1917 the Ruston stack stood 571 feet tall, making it the largest industrial structure on the west coast.
Sulfur dioxide is known to cause, or accentuate, asthma, emphysema, breathing difficulties and throat and lung irritations. Over the years, and through many ensuing controversies, ASARCO would continue to insist that high stacks were the only feasible strategy for dealing with SO2 emissions; they would also assert, well into the 1970's, that SO2 created only minor damage to plants and crops, and only minimal, temporary discomfort to humans.
Sources:
Morgan Murray. Puget's Sound: A Narrative History of Early Tacoma and the Southern Sound. Seattle: University of Washington Press, 1981
Sullivan, Marianne. "Game Without End: politics, pollution, public health and the Tacoma Smelter." Ph.D. Dissertation, Columbia University, 2008.
ASARCO photograph used by permission of Tacoma Public Library
Ruston photograph used by permission of Mike and Tiffany Tallman
LIVING in RUSTON
From its earliest days Ruston was a close-knit community. Some Ruston residents trace their histories back to the first days of settlement. While many of the first settlers came to work at the smelter, others set up small businesses that were patronized by smelter employees.
Mary Joyce's father and brothers came from Croatia early in the 20th century.
Mary's father and brothers opened a grocery store, Kryllich Brothers. Mary remembers that customers often charged their groceries. "Once a month or once every two weeks, when they got paid, the men would come in and settle their accounts." As a small child Mary was also sent out to take orders which she then would deliver. "I can remember, at 11 years old, driving a car, even though I didn't have a license, to deliver groceries!"
Besides selling groceries Kryllich Brothers had a boarding house upstairs for single men who worked at the smelter.
A lot of the people who came from the old country were single men and they would board with the family. And it was so crowded! I can remember my mother telling that at one time there were so many people around that they would have shifts. One guy would get out of the bed to go to work at the day shift and the guy who worked the midnight shift would go hop in the bed and stay there during the day.
By the late 1930's Ruston had churches, fraternal halls, restaurants, bars, nightclubs, and a pharmacy. Families settled in the community and bought or built their own homes. Mary Joyce remembers that as her father became a successful businessman, he was often asked to help finance the aspirations of prospective homeowners.
Ruston had one school which the community's children attended from kindergarden through 8th grade. Mary Joyce recalls:
The school was always a landmark… a community center, almost. If we had a school program it was standing room only… whether you had a kid or not, it seemed like everybody was there. Everybody was either an uncle or an aunt or a grandmother or a grandfather to somebody in the program…you knew everybody and everybody knew you, and if you weren't there, they'd say, "Where were you?" So it was easier to go!
There were strongly interdependent relationships between the smelter and the town. The Ruston school was heated by steam piped up the hill from the smelter. The company took care of garbage collection and paved the town's alleys. The smelter whistle was also the fire alarm, and smelter employees acted as a volunteer fire department. Edie Tallman, a long-time resident, recalled, "If anybody had a fire they had to call ASARCO. And they would alarm it with their sirens."
Sherri Forch moved to Ruston from Tacoma in 1963, when her husband got a job at the smelter. "It was a hard job; it was a heavy job," she recalls. Sherri's husband started at the arsenic plant "but he got badly burned up there, he couldn't work at the arsenic plant." The company moved him to the fine castings department, while she stayed home to raise their two children. Her husband's work 'paid very well; it afforded us some luxuries. We had a camp trailer, and a pick-up truck to pull it, and endless cameras."
Sherri remembers Ruston as a good place to raise children and a supportive community, where people helped each other out. She remembers it as a safe place, where newcomers were quickly incorporated, and a neighbor would always watch out for a child. Many of her memories of Ruston revolve around the smelter.
We lived by the shift whistles…The whistles blew at 7, 7:30 and 8. And 3, 3:30 and 4. And 7, 7:30 and 8 again in the evening. Now I knew the kids would be coming home from school with the 3:00 whistle. Usually, I was down at the smelter to pick up a load of the guys to come home. And the kids could go outside to play. Then we'd call 'em in for dinner and they could go back out and play until the 7:00 whistle blew. That was your come-in time. And by 7:30 they needed to be in the tub. And by 8:00 they needed to be in bed. Even in the summertime when it was still really, really light. They really, really hated it. But we pretty much lived by the shift whistles and it really precluded any arguments about what time it was.
Sources:
Murray Morgan, Puget's Sound: A Narrative History of Early Tacoma and the Southern Sound. Seattle: University of Washington Press, 1981.
Interview with Mary Joyce, Ruston, WA. August 2006.
Interview with Sherri Forch, Ruston, WA. July 2006.
Interview with Edie Tallman, Ruston, WA. August 2006.
Historical photographs of Ruston used by permission of Tacoma Public Library
WORKING at ASARCO
For many years ASARCO was one of the largest employers in the county, employing 1300 workers at its peak. ASARCO's taxes provided virtually all of Ruston's municipal revenues. The smelter's operations helped build and shape the economy of the region and were central to the development of port operations in Tacoma's Commencement Bay. ASARCO's slag (a metallic waste product derived from smelting) built up the tideflats around the bay, making them suitable for industry.
Most Ruston residents had family members who worked at the smelter or at one of the nearby businesses. Smelter workers who lived in the community generally walked to work, but at the end of a shift, when workers were tired, it was a long walk back up the hill to town. On payday there were other temptation as well. On the walk home workers had to pass several bars, any one of which would cash a check and start a tab for an Asarco employee and his friends. Attentive spouses tended to head off this problem by picking up their men as they left the plant on payday.
The smelter regularly hired the children of its employees, and young men from the community, and nearby Tacoma often worked at the smelter in the summer and joined the permanent workforce when they left school. After World War II, ASARCO had a policy of requiring its workers to have high school diplomas. The work was known to be hard, hot, and dangerous, but it paid well, in part because of an active union, which could mobilize the support of virtually the entire town during strikes. There was a major strike in 1946, a lockout in 1950 and another lockout and major work stoppage in 1959. After Mine, Mill and Smelterworkers merged with the United Steelworkers in 1967, the union struck for 9 and ½ months. According to Chuck O'Donahue, the last business agent for the Steelworkers, "Strikes were a common thing to us. Every 3 years we would strike."
O'Donahue recalls that the Steelworkers had established coordinated bargaining systems with the steel and aluminum industry. Under coordinated bargaining a single contract was negotiated with multiple employers. The contracts expired simultaneously. Coordinated bargaining was a powerful tool used by unions to bring pressure to bear on recalcitrant companies. After the Steelworkers took over the Mine-Mill locals, they attempted to introduce coordinated bargaining into the copper industry, but were unsuccessful.
We are going to have consolidated bargaining; we will all sit at one table. Kennecott, Anaconda, Phelps-Dodge, Asarco…But there was no coordinated bargaining…Asarco would say, "I don't care what those sons of bitches from Phelps Dodge say… I don't care what they got, don't expect to get it in your contract." They hated each other! …It took the Steelworkers 6 months to finally realize that was never ever going to happen.
O'Donahue recalls that after the 1979 contract some of employees' wives sued Asarco for gender discrimination. The company had no female employees. The company responded by hiring several women, all of whom received letters from the plant's doctor–Asarco's medical director, Sherman Pinto. The letter warned that arsenic in plant emissions was potentially harmful to women's reproductive systems.
I read it. And I said, "Well, are you thinking of having children? It's telling you that if you're gonna work down here, you shouldn't. That arsenic is harmful to the reproductive organs of the female. So I called [Dr. Pinto] the next day and I said, "Now all the time I thought it took two organs to reproduce..' And he says, 'Well, I didn't put it in there for men, but it's just as dangerous to men as it is to women.' And I said, 'How long have you known this?" It was a study that he had done and never disclosed to anybody until that particular time.But it was just the way Asarco did things. If the CIA could get into Asarco and find out how they kept their secrets, they'd have a wonderful thing.
Source:
Interview with Chuck O'Donahue, Ruston, WA. May 2006
Photographs used by permission of the Tacoma Public Library
ASARCO'S EMISSIONS
Because of the plant's economic importance, town residents were generally willing to live with odors, noise and acid rain caused by proximity to the smelter. Sherri Forch said,
When the wind went bad and the dust blew down, if there was smelter dust on your car and it damaged it, the smelter would pay for a paint job or to get it cleaned up. And if you got damage from something else they would write a check. They were a good neighbor in the sense that they could not control what the wind was doing with the effluent, but if you had damage, they reimbursed.
Acid rain could damage the finish of cars, sidings, or clothing hanging on a line. Edie Tallman remembered:
I have white vinyl siding and at one time that turned yellow. And sometimes you had to redo the laundry because it just made spots on it…You knew it was from the Asarco because it was coming out of the smokestack. But you didn't know what it was. So people would get really upset about that when they had to do their laundry twice.
During the first half of the 20th century most complaints and concerns about the smelter focused on sulfur dioxide emissions. By the late 1940's concern about SO2 was so persistent in nearby Tacoma that the Chamber of Commerce pressured Asarco to build an acid plant to capture the gas and convert it to sulfuric acid. Although techniques for sulfur recovery had been utilized by smelters since 1909, Asarco argued that an acid plant would not be cost-effective because there was a limited market for sulfuric acid. In 1950 the company finally bowed to pressure and built the plant. Approximately 18% of the noxious gases were captured by Asarco's acid plant, while at other smelters 3-4 times as much SO2 was diverted. This did not satisfy newly arrived residents to Tacoma's West End, where, in the early 1950's, neighbors formed an association to investigate the cause of health problems in their neighborhood. People complained about pets dying, yards where nothing grew, and children who developed asthma and acute breathing problems when SO2 emissions were high. The association began to pressure state and county agencies to monitor and regulate Asarco emissions. Although their focus was on SO2, the neighborhood group also requested that the state gather information about heavy metal emissions from the plant, particularly arsenic (Sullivan 2008).
In the 1960's government agencies, including the Puget Sound Air Pollution Control Agency (created in 1967), the Tacoma-Pierce County Health Department, and the Tacoma City Council, began to focus more attention on ASARCO. Community members continued to pressure the smelter to improve its SO2 emissions, although dispersion via the stack, presented as a temporary solution during the 1920's, was still ASARCO's preferred solution forty years later. Asarco continued to insist that sulfur dioxide was not harmful, would not damage crops, plants or livestock, and caused only temporary discomfort to humans. At the same time Asarco created its own environmental research department and conducted more research on SO2 emissions than any other U.S. company of the period; none of their findings were released to the public (Sullivan 2008).
The Puget Sound Air Pollution Control Agency (PSPAPCA) made frequent attempts to regulate ASARCO's SO2 emissions. The agency's records document numerous attempts to cite ASARCO for violations of ambient SO2 standards, and to persuade or force ASARCO into compliance. ASARCO responded with litigation, requests for variances (exceptions) and public relations campaigns and lobbying to convince the PSAPCA board and elected officials to loosen air quality controls. By1985 when the Ruston smelter closed, the company had reduced its emissions to 58% of pre-1960's levels, but it was still out of compliance with state and local SO2 regulations which required it to reduce emissions by 90%.(Sullivan 2008).
The sulfur…as you come down I-5, they used to say, "Well, you're in Tacoma; you've got the aroma of Tacoma." Which,  of course, was St. Regis Paper Mill. But it was not St. Regis that was doin' it; it was all Asarco.                                                                                             (Chuck O'Donahue, Steelworkers business agent, Ruston/Tacoma, WA.)
In 1972 lead poisoning was discovered in children living in El Paso, Texas. The children lived in Smeltertown, a Mexican-American community located adjacent to and below the ASARCO smelter smokestack. This was the first time that lead poisoning in children had been definitively linked to smelter emissions. In the Puget Sound region air quality agencies and health departments began to test for lead and arsenic in soil as well as in the hair, blood and urine of children living near the ASARCO smelter. Dr. Sam Milham of the Washington State Health Department sampled children's urine and found that children living within a half mile of the stack were found to have average arsenic concentrations 15 times higher than what was then considered safe for humans (Sullivan 2008, 204). The state Health Department asked for comprehensive studies, including bio-monitoring of residents and extensive soil and air sampling. In 1973 the head of environmental health for the Health Department wrote to the EPA: "Our investigation has shown the problems to have significant impact beyond the people of Ruston, and…the total environment may be adversely influenced by the smelter" (Sullivan 2008. 223).
Tests of grass samples near the smelter where horses were pastured showed potentially fatal lead levels, and samples of garden vegetables found mercury, lead and arsenic (Sullivan 2008, 225). In January 1974 the regional office of the EPA requested funding for comprehensive studies, stating,
The Asarco smelter pours tons of material into the atmosphere daily. Among the pollutants emitted are known to be lead, mercury, cadmium and arsenic, all of which are toxic materials. The smelter has been in operation 85 years during which time the emissions have been virtually uncontrolled. Build-up of the…metals in the soil, plants, and possibly in the bodies of people living in the area proximate to the Smelter could pose a serious health hazard to those individuals…A potential public health problem of unknown extent exists in this area (Sullivan 2008, 227).



Sources:
Sullivan, Marianne, "Game Without End: politics, pollution, public health and the Tacoma Smelter. Ph.D. Dissertation, Columbia University, 2008.
Interview with Chuck O'Donahue. Ruston, Washington, May 2006.
Interview with Sherri Forch. Ruston, Washington, July 2006.
Interview with Edie Tallman. Ruston, Washington, August 2006.
WORKER'S CONCERNS ABOUT HEALTH AND SAFETY AT ASARCO
By the 1970's there were growing concerns about health and safety issues at ASARCO's Ruston plant. The work was known to be hard and dangerous, but high wages and an active union sustained the workers, especially when jobs were particularly dirty or difficult.
Rodger Jones was hired at Asarco in 1965. At first he worked as a skimmer helper. The skimmer would open the furnace to skim off impurities from the molten ore. The impurities, or slag, would be poured into railroad cars, driven out to the bay, and dumped.  As it cooled, the slag formed a solid metallic substance similar to congealed lava. Over time the slag dumped from Asarco's furnaces built up the tideflats and extended the land areas around the bay.
Skimming was dangerous work.
Occasionally the skimmer was unable to plug up the furnace, and a runaway was created, where molten copper spilled on the floor. Someone would have to cross the pool of hot, liquid metal to seal the furnace and stop the runaway. Rodger was badly injured during a runaway, and left the plant. He returned in 1967.
I started going to union meetings…You'd listen to people in the lunchroom and if you weren't a union member, you weren't welcome. So I decided I wanted to be part of it, I wanted to be welcome, so I joined the union. Didn't have a union background, didn't know a lot about unions, but started getting interested, and started looking at some of the safety concerns and the health concerns.
Like his fellow workers Rodger was familiar with some of the health and safety risks. He had seen that new workers were often sent to the roaster ovens (where the first contaminants were removed) or to the arsenic plant itself. The Ruston smelter received the bulk of its ores from the Philippines; the ores were heavily contaminated with arsenic, and the smelter extracted the arsenic and re-sold it commercially.
And for some people, their skin couldn't take it [the arsenic]. They would get bad dermatitis and…little boils—there was just a real bad reaction.
Rodger had some near misses while working on the feed floor above the furnace. The feed floor was made up of four-foot square gratings–below it, larry cars transported ore to be dropped into the furnace and smelted. When the ore was dropped in the furnace, it created "blowback," a white sulfur cloud.
ASARCO's sulfur dioxide emissions were a recognized hazard, both in the plant and in the community. The potential for damage from arsenic was less well-known or understood. The Tacoma smelter was one of the largest producers of arsenic in the world. In studies conducted in the early 1970's by researchers from the University of Washington, ambient arsenic concentrations in Ruston/Tacoma were found to be eight times the national average.* Then, in 1972, Dr. Samuel Milham, Director of the Washington State Health Department, found elevated arsenic levels in the urine of Ruston children living near the smelter smokestack. These research findings initiated a local, and ultimately, a national effort to create a standard for industrial exposure to arsenic.* *
Rodger and two co-workers decided to start a newsletter, The Smelterworker. The first issue, printed in 1972, featured Dr. Milham's research. Concerned about health impacts in the community and their implications for workers in the plant, Rodger began to investigate. He went to Olympia to interview Dr. Milham.
I wanted to interview him because I was saying, 'If they have concerns about the kids in Ruston and their exposure to arsenic, what about people working in the plant? You know, there's got to be some concern there!' That interview, and a lot of subsequent research opened my eyes quite a bit. And the first thing I found out was that our doctor, Doctor Pinto, was the foremost authority on arsenic exposure in the United States.

Q: He was the staff doctor at Asarco?

A: Yes, he was. And all the literature I was doing research on kept pointing to him as the foremost authority.

Q: Had he ever talked to you about arsenic?

A: He never talked to anybody about anything.
The Smelterworker was tackling some of the major issues ASARCO workers faced on the job. Milham's study had opened the door for workers, community residents and researchers to inquire into the health impacts from exposure to the contaminants produced by smelting, especially arsenic. Dr. Pinto's studies, published in reputable, peer-reviewed journals, were based on ASARCO personnel records, records that should have been confidential and protected. Furthermore, they consistently asserted that arsenic caused only minimal—and temporary—damage to the bodies of exposed ASARCO workers. In 1963, the same year that Sherri Forch and her husband settled in Ruston, Dr. Pinto, ASARCO Medical Director and B.M. Bennett, Assistant Professor at the University of Washington School of Medicine, published a study in the Archives of Environmental Health Journal, entitled "Effect of Arsenic Trioxide Exposure on Mortality." This was one of approximately 10 articles, published over 15 years by Pinto and his various associates, which dealt with the effects of arsenic exposure on workers at the Ruston/Tacoma smelter. The 1963 study examined causes of death (as reported by the attending physician to the life insurance company retained and funded by Asarco) among 229 smelter employees. The study concluded, "there was no evidence that chronic arsenic trioxide exposure of the amount described in this study is a cause of systemic cancer in humans."
Some years later Pinto was forced to acknowledge that while the cause of death given by the attending physician in his study was rarely "cancer," it was often listed as an illness resulting from complications caused by cancer. Thus, in 1977 Pinto and four co-writers published a revised study of 527 ASARCO retirees which found that "overall morality of this cohort…was "12.2% higher than for males of the same area, at the same ages, and in the same time period. The excess mortality was due chiefly to respiratory cancer, which was three times the expected, and was not due to cigarette smoking." This study conclusively tied lung cancer to arsenic exposure.
But in 1972, when Rodger first began to publish The Smelterworker, clear data did not exist about mortality rates from arsenic exposure. The union hesitated to endorse the newsletter. Rodger remembers,
After several months, however, the local union leadership made a decision to support the production and funding of The Smelterworker. Ultimately, The Smelterworker won three national awards and became a source of pride to the local and the international. Rodger was elected to the local's safety committee and continued to monitor safety conditions in the plant. But many workers continued to fear that pressure to reduce emissions and strengthen safety measures would force the company to close, a fear Asarco frequently exploited.
The threat of closing down was always hanging over our heads. The concern was the union didn't want to be the one to put the last nail in the coffin. So they were very concerned.

That fear was real. In that 9-month strike, in 1967, I watched good friends of mine in their '60's that lost their homes. Lost their credit…lost their families because of divorce. They were willing to fight for their jobs, but they sacrificed. Seeing that, and seeing what happened to other people, that fear was real. If you worked at a plant for 30 years and it's all you know, it's industrial, you know, you're not ready to quit and become a baker. You just don't have the skill-set.
Asarco attempted to use employees' fears to divide the workers and silence safety concerns. Rodger remembers,
Sources:
*See Sullivan, Marianne, "The Struggle to Regulate the Tacoma Smelter: 1900-1985,"in the Community Stories section of this website
**See Sullivan, Marianne, "Contested Science and Exposed Workers: ASARCO and the Occupational Standard for Inorganic Arsenic," Public Health Reports 2007 July-August; 122(4): 541-547. Also in the Public Health section of this website.
Interview with Rodger Jones. Tacoma, Washington, June 2006.
Pinto, S, Bennett, B.M., "Effect of Arsenic Trioxide Exposure on Mortality." Archives of Enviornmental Health, Vol. 7, Nov. 1963, 583-591.
Pinto, S., Enterline, P., Henderson, V., Varner, M, "Mortality Experience in Relation to a Measured Arsenic Trioxide Exposure." Environmental Health Perspectives, Vol. 19, 1977, 127-130.
Photograph used by permission of the Tacoma Public Library
Useful Documents:
The Smelter Worker – March 1973-reducedsize
The Smelter Worker – July 1973-reducedsize
The Smelter Worker – January 1974 – reducedsize
The Smelter Worker – March 1974-reducedsize
The Smelter Worker – February 1975-reducedsize
The Smelter Worker – October 1975-reducedsize
The Social Costs of Air Pollution Control Options at the Asarco Tacoma Smelter – May 1978
Ruston – the town a smelter built – 1980 Dec 27 – TNT
Now Entering Ruston – 1997 Apr24-May1 – Tacoma Weekly – reducedsize
Asarco cleanup nears completion in Ruston – 2005 Jun 19 – TNT
Asarco abandons cleanups – 2005 Aug 19 – The Olympian
Text Message from a Toxic-Waste Site – May 26 2009 – The Stranger Newspaper
THE STRUGGLE TO REGULATE THE TACOMA SMELTER: 1900-1985
Note: This essay was contributed by Marianne Sullivan, MPH, a researcher, teacher and epidemiologist. Marianne's dissertation on Asarco's Tacoma/Ruston smelter is cited frequently in our work.
The Tacoma smelter was one of the country's most polluting nonferrous smelters. In its century of operation in Ruston, Washington (1890-1985), it produced lead, copper, arsenic trioxide, sulfuric acid and precious metals. Primarily a copper smelter, the Tacoma smelter was unique for several reasons: it was able to process ore with a high arsenic content; it was the only U.S. producer of arsenic trioxide after 1965; and it was located in an urbanizing area.
The environmental consequences of nearly a century of smelting are widespread arsenic, lead and other heavy metal contamination of mainland soils; contamination of islands and sediments in Puget Sound; and arsenic-containing slag, dispersed throughout the region. Social consequences include residents' concerns about health, as awareness of potential exposure to toxins has been introduced into every day activities; law suits against ASARCO; concerns about property values; and public questioning of the government agencies that were charged with regulating the plant and protecting the public's health.
In its century of operation in Tacoma, the ASARCO plant was never adequately regulated. Throughout the 1970s and 80s, the company successfully used threats of closure and job loss as bargaining chips to forestall regulatory action that would have required cash outlays to upgrade the aging, heavily polluting facility. During the uncertain economic climate of the 1970s and early 1980s, this tactic worked to sway public opinion to some extent, as well as many regulators and elected officials.
This short article briefly describes the struggles of citizens, activists, environmental groups, lawyers, and some government officials, throughout the twentieth century, to regulate the noxious mixture of sulfur dioxide, lead, arsenic and other heavy metals that spewed from the smelter's tall smokestack, which imperiled the health of Puget Sound residents, and despoiled the environment.
The early years
Calls by citizens to curtail the pollution from the smelter's smokestack that killed off natural vegetation in the area, damaged gardens, and contaminated locally grown food, date back to the early part of the twentieth century. By 1905, complaints of the "smoke nuisance" would cause the company to rebuild the smelter stack, making it the tallest concrete chimney in the world, in an attempt to dissipate the sulfurous and heavy metal laden fumes.[i] In 1916, Tacoma neighbors organized the "North End Improvement Club" to protest smelter fumes that blanketed the area.[ii] The following year, the stack was raised again, this time to 571-feet. ASARCO assured angry neighbors that this new, taller stack would solve the problem. Increasing the height of the smokestack to effect better dispersion of contaminants was ASARCO's favored strategy for mitigating sulfur dioxide related air pollution complaints. At many of their smelters in the west, they relied on this approach for "pollution control" and funded an extensive research department which helped to convince government officials that "dispersion" was an effective approach to limiting damage to agriculture and forest land surrounding smelters. Though technology was available early in the century to capture sulfur dioxide emissions, ASARCO resisted this solution at Tacoma, and at many of their other smelters in the west, because they felt that it would not be profitable.
Despite episodic citizen anger and complaints to the local health department and elected officials, the Tacoma smelter was not required by any government entity to capture its sulfur emissions in the first half of the century. In the early 1950s, they installed a recovery system that captured about 18% of input sulfur, but this did little to solve citizen complaints. Tacoma leaders maintained, until the late 1960s, that they had no power to act to control the smelter's emissions, as it was located in the separate town of Ruston, outside of the city's jurisdiction.
Sulfur dioxide was the pollutant that was most noticeable to the community, as it seared lawns, killed gardens, exacerbated asthma and respiratory conditions and provoked choking sensations. Sulfur dioxide from the Tacoma smelter was also a chief contributor to acid rain in the region.
Air Pollution and the Tacoma smelter post-World War II
After World War II, public consciousness nationwide was changing about air pollution. For many decades, industry contended that air pollution was simply a nuisance, and not a threat to health, as ASARCO did in Tacoma. But after several air pollution disasters, some involving smelters (e.g. Meuse Valley, Belgium, Donora, PA) the public was increasingly linking air pollution with health damage.
This changing conceptualization of air pollution was reflected in citizen organizing in Tacoma by the late 1950s. By then, a post-War population boom, meant that more housing was being built in the path of the smelter's summer smoke stream, and the smelter's location was becoming decidedly disadvantageous. Though ASARCO fostered loyalty in many local residents, others began organizing to protect health and property from damage from SO2 and later, heavy metals. Concerned Tacoma residents lobbied local, state and federal officials—to little effect—to gain relief, mostly from sulfur dioxide, in the late 1950s and throughout the 1960s. Despite the efforts of citizen activists from North Tacoma, neither the city of Tacoma nor the state of Washington took concrete steps to abate the smelter's pollution during this time period.
The introduction of local, state and federal environmental regulation
With the introduction of modern environmental regulation in the late 1960s and early 1970s, new dimensions were added to what was by then an old debate over reducing the smelter's sulfur dioxide pollution. Ostensibly, local, state and federal regulators had the authority to reduce the plant's emissions. Air pollution control authority at the local level was vested in the Puget Sound Air Pollution Control Agency (PSAPCA).
Organized environmental groups became involved in regulatory struggles in the late 1960s and early 1970s. The Washington Lung Association played a leadership role, and in the mid-1970s, more groups became involved, including local advocacy groups from Tacoma and Vashon Island such as GASP (Group Against Smog Pollution), APE (Americans Protecting the Environment), IRATE (Island Residents Against Toxic Emissions), the Sierra Club, and Friends of the Earth. Clean Air for Washington and the Washington Environmental Council used the courts to try to press for controls. Their combined advocacy and oversight made it clear that the actions of ASARCO and regulatory agencies were being closely monitored. PSAPCA's relatively modest regulatory accomplishments with respect to the smelter, probably would not have been possible without citizen advocacy.[iii] Additionally, citizen legal challenges established some important precedents for environmental law in the state.
The 90% Standard for Sulfur Dioxide
Shortly after PSAPCA was formed, reducing emissions from the Tacoma smelter became the agency's number one priority. The smelter was the largest source of SO2 pollution by far in the Puget Sound region—in the mid-1970s, PSAPCA said it was responsible for 85% of the region's SO2 emissions.[iv] The agency rejected a request by ASARCO to build a 1,000 foot stack, rather than capture sulfur emissions. PSAPCA had determined, based on research conducted by the federal government, that ASARCO could feasibly capture 90% of input sulfur. This rule was also adopted in other smelting states. Industry fought the rule fiercely, and also fought its incorporation into the federal Clean Air Act, which helped to undermine EPA's enforcement of the standard by PSAPCA. Though PSAPCA never changed its expectation that ASARCO would capture 90% of its sulfur emissions, the company successfully used threats of closure to gain extensions to compliance deadlines. When the Tacoma smelter closed in 1985, it was capturing, at best, about half of input sulfur, and often not meeting the looser federal standard of 51%.
Regulating arsenic in air
Arsenic and other heavy metal emissions from the Tacoma smelter were a related but separate problem to that of sulfur dioxide. The Tacoma plant was one of the largest anthropogenic sources for arsenic in the world. Arsenic emissions after the introduction of high arsenic copper ore, probably in 1913, until controls (electrostatic precipitators) were installed, may have been between 35 to 67 tons per day.[v]
The smelter's toxic metal emissions remained unregulated until the 1970s. Up until then, government officials basically took the company's word for it that toxic metal emissions were well controlled. ASARCO did install electrostatic precipitators (EPs) to capture heavy metals, the first one in 1918, and two more in later decades. Electrostatic precipitators capture heavy metals from smelter smokestreams through the use of electrical charges.  Captured metals, such as arsenic, could then be sold at a profit.
The EPs functioned as a pollution control device and captured a portion of the smelter's toxic metals, but when studies were conducted in the early 1970s, ambient arsenic concentrations in Tacoma were measured at eight times the national average.[vi] The UW researchers who conducted the study urged that standard for arsenic in air be set. At the time, arsenic was known to cause skin cancer, and evidence was accumulating that it was a respiratory carcinogen. Today, arsenic is known to cause cancer in many different organs.
The discovery of elevated arsenic concentrations in the urine of children who lived near the smelter's stack in 1972 led to calls from state and local health departments, among others, [vii] for PSAPCA to regulate the smelter's arsenic emissions. In addition, state and local health department investigators and other researchers had identified significant environmental contamination with arsenic in the region in the early 1970s.
PSAPCA favored the prompt adoption of an ambient air standard for arsenic, and enlisted EPA's assistance in this effort. [viii],[ix] The agency was already engaged in discussions with ASARCO on lowering their heavy metal emissions, and had recommended that they "…make all reasonable efforts to abate emissions of arsenic and lead to the lowest level practicable by application of the best available technology."[x] At the time, there was no legally enforceable standard, either federal, state or local that would have put a limit on arsenic emissions.
Limited air sampling for arsenic in the vicinity of the smelter in the early 1970s found arsenic concentrations taken 2 miles from the smelter averaged 1.5 μg/m3. The maximum concentration was 9.8 μg/m3, 89 times higher than the U.S. urban average. Even in the area beyond two miles from the smelter, the maximum concentration was close to 2.0 μg/m3.[xi]
By early 1973, PSAPCA believed that ASARCO was emitting about 1,000 pounds of arsenic per day from the tall stack. But, the agency had yet to estimate emission rates or measure ambient air concentrations of other toxic metals present in the smelter's emissions such as mercury, copper, lead, and cadmium.[xii]
Setting a Local Standard for Arsenic
PSAPCA thought that EPA's standard-setting process for arsenic could take up to a year or more and the agency wanted to achieve control of arsenic emissions in a more timely fashion. Public hearings were held in February of 1973, and a plan was adopted for upgrading the plant's pollution controls.
Over the decade of the 1970s, arsenic emissions from the smelter's tall stack decreased because of the control requirements imposed by PSAPCA. But ASARCO never installed a baghouse for tall stack emissions—a proven pollution control technology that would have significantly increased capture of the plant's toxic metals.[xiii] In addition, fugitive, or low level emissions remained a significant problem.
The presumption of health officials and PSAPCA was that controls installed by ASARCO would lead to declining urinary arsenic concentrations in Ruston children. However, Dr. Sam Milham of the Washington State Department of Health determined in 1976 that children's urinary arsenic concentrations were not declining as expected. [xiv] In a letter to PSAPCA, Milham wrote:
For comparable groups, arsenic levels are about the same now as they were four years ago. If the extensive emission control activities undertaken by the Smelter have had an impact on overall community arsenic exposure, I cannot demonstrate it in this urinary arsenic data…I conclude that Ruston children are still being exposed to very high levels of arsenic in their environment.[xv]
EPA Involvement
Within EPA Region 10, some staff were very concerned about the impact that the smelter's toxic metals emission might be having on the health of the region's residents. In January of 1974, in an effort to direct resources toward the problem, a regional staff member wrote:
The ASARCO Smelter pours tons of material into the atmosphere daily. Among the pollutants emitted are known to be Pb (lead), Hg (mercury), Cd (cadmium), and As (arsenic), all of which are toxic materials. A potential public health problem of unknown extent exists in this area.[xvi]
By the end of 1974, EPA Region 10, had designated the Tacoma smelter  "the number one air pollution problem in the Puget Sound region."[xvii] But the Region's elevation of the problem did little to get EPA headquarters moving expeditiously. Headquarters was skeptical of the carcinogenic threat posed by airborne arsenic. The regulation of heavy metals, with the exception of lead, came under the air toxics provisions of the Clean Air Act. To regulate it, arsenic would first have to be declared a hazardous air pollutant and then Headquarters would have to promulgate a standard. EPA was taking a very conservative approach to regulating air toxics– Between 1970 and 1990 the agency set standards for just seven hazardous air pollutants.[xviii]
The slow pace on regulating arsenic by EPA Headquarters appeared to be at least in part political, justified on the basis of inadequate scientific evidence, since EPA was alone among federal regulatory agencies in their skepticism with respect to the science on arsenic's carcinogenicity.
When EPA missed an August, 1978 deadline to decide on listing arsenic as a hazardous air pollutant, the Environmental Defense Fund filed suit asking the court to order EPA to declare arsenic a hazardous air pollutant or detail why it would not.[xix] It would take EPA until June of 1980 to declare arsenic a hazardous air pollutant. Almost a decade had passed since Region 10, local regulators and environmental groups had first asked for Headquarters' help on regulating arsenic.
The 1980s saw vigorous debate over the extent to which the smelter would clean up its arsenic emissions. After remaining relatively hands-off in the 1970s, EPA Headquarters took a prominent, but controversial role under the leadership of Administrator William Ruckelshaus. With the expressed intent of promoting public participation in environmental decision-making, EPA held public meetings to ask whether residents favored further pollution controls or plant closure and job losses. In the end, EPA took so long to promulgate a final regulation for arsenic that the plant shut down in 1985 before federal regulation occurred.
The failure to adequately regulate the smelter's considerable arsenic releases meant that throughout the 1970s and 80s ambient air concentrations remained high, as did concentrations of urinary arsenic in children, until the time the smelter closed in 1985.
Both before and after 1970, government agencies approached the problem of the Tacoma smelter's emissions from the perspective of weighing the costs and benefits of pollution control. Without definitive evidence of health problems in the community, relative inaction could be and was justified, and the burden of proof that health was being harmed was largely on the community. The immediate costs to industry of pollution control were prioritized over the substantial costs—both immediate, and long term—to the region's residents. The Tacoma smelter's legacy of pollution remains an on-going challenge as regulators and environmental scientists grapple with how to reduce exposure to and clean up the vast quantities of toxic metals that now contaminate the region's soils.
---
[i] "Mammoth New Chimney Just Completed at Tacoma Smelter," The Daily Ledger (May 7, 1905), 4.

[ii] H.Y. Walker, Tacoma Smelter Manager to Mr. Karl Eilers, Vice President, ASARCO, "Internal ASARCO Correspondence," (September 20, 1916), Branin v. ASARCO.

[iii] Arthur Dammkoehler, interview conducted by the author, (July 20, 2005), digital audio recording, Mercer Island, Washington, file in author's possession.

[iv] Puget Sound Air Pollution Control Agency (April 22, 1974), The Concentration of Lead, Arsenic, Mercury, Cadmium, Sulfur Dioxide and Suspended Sulfates Downwind from the Tacoma Smelter, the Impact and Control Status, and Benefits from Reduction, Interim Report for Presentation to the ASARCO Impact Task Force Being Coordinated by EPA, 28, Environmental Protection Agency Site File, Commencement Bay/Nearshore Tideflats ASARCO Smelter Facility Site File, hereafter referred to as ASDSF, 1.6.3.

[v] Estimates of historic emissions for the Tacoma Smelter have not been made in the published literature. Glass in the Washington State Department of Ecology's Credible Evidence Report invites the reader to make comparisons with Anaconda, which emitted up to 75 tons of arsenic per day prior to installing Cottrell electrostatic precipitators. In a personal communication with this author, Glass estimated that prior to the installation of EPs, based on estimates of throughput and slag output, emissions of arsenic to the air could have been between 37 and 67.5 tons per day. However, the arsenic content of ore in the early years of the smelter's operation is not well documented; Gregory L. Glass, environmental scientist, written personal communication, (February 1, 2008), in possession of author.

[vi] H. Alsid, B. Amundson, G. Hofer, D. Lutrick, "The Tacoma Air Pollution Study (July-August 1970)," (September 30, 1970), Air & Resources Program, Water and Air Resources Division, Department of Civil Engineering, University of WA, Seattle, University of Washington Special Collections, American Lung Association Records, 5271-1 B4 F15.

[vii] Wallace Lane, MD, to Arthur Dammkoehler and Board of Directors, PSAPCA, "Letter," (November 9, 1972), ASDSF 1.1.1.

[viii] Arthur Dammkoehler to Wallace Lane, MD, "Letter: Lead and Arsenic Studies, Vicinity of ASARCO Copper Smelter," (November 13, 1972), ASDSF 1.1.1.

[ix] Arthur Dammkoehler to James Agee, Administrator, Region 10 EPA, "Letter: Request for EPA Technical Assistance in Establishing Ambient Air and Emission Standards for Arsenic," (November 14, 1972), Environmental Protection Agency Site File, ASARCO Administrative Record, Microfilm, hereafter referred to as ASAR, with microfilm number and start frame number following, ASA 208 1375.

[x] G.C. Hofer, M.J. Svoboda, A.E. Parlier, R.D. Pollock, Puget Sound Air Pollution Control Agency "Interim Report: Lead and arsenic content in the soil affected by the copper smelter located in Tacoma, Washington," (October, 1972), King County Archives, Box Health Department Director Issue Files 68-79, Folder 10 Lead Poisoning 1972-79.

[xi] Puget Sound Air Pollution Control Agency, "Staff Report: Section 9.19 Regulation I Arsenic Emission Standard," (February 14, 1973), ASDSF 1.1.1.

[xii] Ibid.

[xiii] John W. Roberts, Air Pollution Engineer to Chief-Engineering, "Internal PSAPCA Memorandum: Arsenic and Particulate Emission Reductions Possible with Baghouse on Tall Stack at ASARCO," (June 16, 1975), Ecology electronic files.

[xiv] Samuel Milham, Jr., MD to Arthur Dammkoehler, "Letter," (October 1, 1976), ASDSF 1.6.6.1. [Three tables with urinary arsenic concentrations attached].

[xv] Ibid.

[xvi] James Everts, Research & Development Representative, Region X, Requestor, "Environmental Research Needs: Hazard Evaluation of the Tacoma, Washington, ASARCO Copper Smelter" (January 31, 1974) Environmental Protection Agency Site File, Commencement Bay/Nearshore Tideflats, ASARCO Administrative Record, hereafter AR, 1.1.

[xvii] Terrance R. Strong to Smelter Task Force, "Meeting Minutes: Smelter Task Force Meeting," (December 18, 1974), ASAR ASA 211 Frame 1437.

[xviii] K.W. Olden, and J. Guthrie, "Air Toxics Regulatory Issues Facing Urban Settings," Environmental Health Perspectives 104 Supplement 5 (1996), 857-60.

[xix] "Group Seeking Limits on Arsenic in the Air Files Suit Against U.S.," Wall Street Journal (August 16, 1978), 3.
THE TACOMA PROCESS: JOBS vs. HEALTH vs. BOTH
THE TACOMA PROCESS: JOBS vs. HEALTH
The story of ASARCO and its long path as a corporate entity in the US and other countries is marked by one very significant moment – what has been called "the Tacoma Process."  In 1983 the Ruston/Tacoma and Pierce County area was enduring much turmoil about the impacts Asarco's emissions –whether stack emissions or fugitive emissions (the ground-level, less monitored emissions that can have substantial environmental health impacts on workers, residents, and the local environment).
Workers knew that they were dealing with impacts – whether through accidents or on-site exposure to arsenic and other contaminants. But they also were caught in the classic "no exit" – jobs versus health. As is typical for anyone who cares about putting food on the table, the workers at Asarco were willing to endure discomfort and risks associated with their jobs. But in the 1970's the union threw its support behind "The Smelterworker," and Rodger Jones and some of his co-workers were monitoring safety and health in the plant. Key players in the regional environmental and public health movements were increasingly voicing their concerns about Asarco's emissions—especially the Sierra Club, the Lung Association and an upstart group called Tacomans for a Healthy Environment (headed up by Brian Baird, PhD psychology student, later to become Representative in the US House of Representatives, 3rd District).
In 1983, under the Reagan Administration, William Ruckelshaus, the newly re-installed head of the EPA (he'd served before, under Nixon) was faced with the challenge of developing a national standard for arsenic emissions. On July 12, under pressure from a US District Court order, Ruckelshaus announced a proposed standard that would strengthen the public health protections the EPA was charged with ensuring. The proposal: a standard that would reduce the then-current risk of 4 additional cancer cases in a 12-mile radius of the Tacoma smelter down to one additional case a year in the region. Rather than press on to a decision, the Ruckelshaus administration offered what was described as an opportunity for participatory democracy. The residents and workers in the Tacoma area were invited to weigh in on the difficult decision, one that weighed the threats to environmental health against the threats to a certain kind of economic health, the availability of jobs.
This was a first for the EPA.  In existence for over a decade and charged with making decisions that were public health protective, the EPA was venturing out to enlist and invite the public into the challenges of standard-setting and difficult choices. EPA Region 10 in Seattle dedicated much time and energy to stimulating and corralling public interest in this volatile issue, one that had already torn the community and the region as they grappled with an impossible "choice" (or non-choice, as many would assert). The Region 10 staff, in collaboration with an array of public officials, agency staffers, non-governmental organizations and union advocates, organized a series of workshops providing technical information and opportunities for intense discussion and searching Q&A exchanges.
The Tacoma Process got a lot of local attention, but it also stirred the national press to comment on the challenges foisted on the community. Instead of being lauded as a great exercise in democracy, many on-the-ground citizens and national commentators saw the process as a cruel exercise that offered few meaningful choices. Some people attended the EPa-sponsored meetings with the button "Jobs," others with "Health", others with "Both." National headlines identified the dilemma that had befallen the community:
"Smelter workers have choice: Keep their jobs or their health?" (Chicago Tribune)

"What cost a life? EPA Asks Tacoma," Los Angeles Times

"Tacoma Gets Choice: Cancer Risk or Lost Jobs" New York Times
But Ruckelshaus pressed on. He rejected the N.Y.Times' depiction of his offer as "inexcusable", the dictate of a modern day Caesar "who would ask the amphitheater crowd to signal with thumbs up or down whether a defeated gladiator should live or die." He urged people to grasp the complexities of his position: being in Washington, D.C.,, he had much to learn from people in the region and wanted to take all comments into account. At the same time, Ruckelshaus wasn't shifting the decision to the people of Ruston and Tacoma that responsibility would be his alone.
The very volatile, newsworthy meetings went on. The EPA staff, beyond all others, seemed to have learned a lot about the volatility of the turf that they were in. Press accounts reported that participants wanted to hear more than just the technicalities (the maps, the wind charts, the risk estimates). They wanted to offer their own ethical judgments and explain their sense of the risks that linked family, workplace and community. Some press and agency accounts made sharp distinctions between comments they saw as "rational" and others they deemed "cultural."  But questions about whether dirt would need to be removed "from my garden" proved to be not "just personal" at all; in fact, a prominent feature of public policy that emerged from the Tacoma Process was soil removal as part of the remediation. The rational vs. cultural comparison was misleading. The people of Ruston and Tacoma were asking important, heartfelt—and  analytically strong—questions. The perspective, research and exposure estimates presented by the key regional body, the Puget Sound Air Pollution Control Authority, were more in keeping with the broad display of public concern evidenced by the approximately 800 people who attended the workshops than was the narrower approach of the EPA.
The most common depiction of the Tacoma Process—that it all boiled down to a jobs-versus-health standoff—is misleading. In some ways, amidst the volatility and press-drama, many people held to the "both" position. Through the meetings, many neighbors and regional environmentalists became much more tuned in to the job concerns of workers and listened with gravity as workers spoke of the demoralization they experienced and of their fears that Asarco would close and leave them jobless. Mike Wright, an industrial hygienist with the US Steelworkers, took a middle ground and opened the door to worker-neighbor alliances. "No one has to convince our union that arsenic at high levels is risky. We know what arsenic has done to many of our union brothers and sisters in the Tacoma smelter and other copper smelters. It was the death of our members which provided the conclusive evidence that arsenic causes lung cancer." He pushed for the industry to adopt the best available technology, not just the technology Asarco said it could afford.
Despite their concerns about the potential health impacts from ASARCO's emissions, many Ruston residents took positions that supported the company, citing their concern that the smelter would close and jobs would be lost. Sherri Forch was one of the Ruston residents who testified, as she puts it, "for the smelter". She explained, "I recognized the need for the jobs and the uniqueness of what our town is and how devastating it would be should we lose that…"
The rounds of meetings and discussions were followed by more formal hearings a few months later in November 1983. About 150 people, representing a range of views and organizations, offered their perspectives. These ranged from concerns for jobs, health, environment, and the next generation to corporate accountability. One of the most vexing features of the Tacoma Process for many observers and participants was the way the jobs-versus-health script was continually repeated or exaggerated, enabling ASARCO to keep a low profile while the more visible combatants went at each other.
Asarco did appear in force, however, for the hearings. The company had already questioned EPA's risk estimates and it offered five expert witnesses, who rolled out different estimates, with a more comforting "margin of safety." According to Asarco's witnesses the company: (1) was already in compliance with the Clean Air Act; (2) would/might support EPA's newly proposed standards; (3) opposed more stringent standards that addressed ambient exposure; (4) could not reduce emissions further; and (5) because of economic realities (a depression in the copper industry) would not take on additional expenditures beyond the predictable BAT (Best Available Technology) formula. In the end, it wasn't clear what Asarco would do in response to EPA and community efforts to constrain emissions even though its Ruston/Tacoma plant had the highest arsenic emissions in the country. And so the process convened to formulate public health protections through an arsenic standard dragged on.
Analysis, memory and conversation about the Tacoma Process runs the gamut, from praise for its open, messy, democratic and inclusive elements, to scorn for the false choice it foisted on the public. Yet even while workers, residents, environmentalists and public agencies struggled to voice  their concerns, listen to one another, and imagine solutions to a dilemma that seemed all but unresolvable, Asarco was moving towards a decision to close the plant.
Sources:
Baird, Brian. "Tolerance for Environmental Health Risks: The Influence of Knowledge, Benefits, Voluntariness and Environmental Attitudes," Risk Analysis 6:4 (1986), 425-35.
Krimsky, Sheldon & Alonzo Plough, Environmental Hazards: Communicating Risk as a Social Process, Dover, MA: Auburn House, 1988.
Scott, Esther, "The Risks of Asarco," in Gutman & Thompson's Ethics and Politics: Cases and Comments, Chicago: Nelson-Hall Publishers, 1997.
Sirianni, Carmen, "The Tacoma Smelter and EPA: EPA Brings Community Deliberation to  Jobs versus Environment Dispute in Tacoma," in
www.cpn.org/topics/environment/tacoma.html
Aerial photograph of Asarco smelter used by permission of the Tacoma Library
ASARCO CLOSES; A COMMUNITY TRIES TO COPE
In 1982 ASARCO announced its decision to close the Ruston smelter. Although rumors had circulated in the community for some time, the announcement caught everyone off-guard. Chuck O'Donahue, business agent for the Steelworkers union local, remembers sitting in his office when he received a call from the local newspaper, the Tacoma News Tribune.
I'm sitting in my office and the phone rings, and it's the News Tribune, that says they were looking to get my reaction to the plant closure announcement…And I says, "What plant closure announcement are you taking about?" And he says, "You're the business agent for Asarco, aren't you?" I says, "Yah." And he says, "Oops, I'm sorry." And he hangs up the phone…Someone let the cat out of the bag. The press release Asarco had sent out went to the Seattle Post Intelligencer, the NewsTribune, TV stations… They mailed it to everybody but us.

So at 12:00 we gathered everybody outside in the parking lot and [Larry Lindquist, the Plant Manager] made his announcement then. And the whistle went off at 12, and it was the ungodliest sound you ever heard.
The company had promised the union it would remain in operation for at least two years while a dislocated workers program was established, and employees had time to retrain. Using a combination of company, government and union funding, most workers were able to go through a retraining program, or find a new job. Chuck O'Donahue is proud of the process he helped develop to support the workers' transitions. He estimates that of the 735 employees working at the plant in 1982, 713 found jobs.
We involved the whole family. We would hold Sunday afternoon…rallies…bring the family out, talk to them…'We know what your concerns are. What's going to happen to my automobile? What's going to happen to my house? 'We established a food bank for people who were really in need of it…
Now during this Dislocated Workers program, we had no foreclosures…we had no lost automobiles, or repossessions or anything like that.
Some residents found jobs locally, but others moved away in search of jobs and opportunity. The plant closure seemed to sever the tie that many in Ruston felt to the community and the region. Ruston was thrown into crisis, as its main—and virtually only—source of work and resources disappeared. Sherri Forch said,
When the smelter closed, we lost a whole generation of young people. There were no jobs to aspire to after graduation. They either had to go into the military or go someplace else for work.
At the conclusion of the EPA hearings, in 1983, the ASARCO site, the entire town of Ruston, and the northern edge of the city of Tacoma, abutting Ruston, were declared a Superfund site due to "widespread contamination of the water, sediments, and upland areas," primarily arsenic, lead, cadmium and copper in soil, air, groundwater, sediments and surface water. Over a period of more than 20 years the EPA supervised the demolition of ASARCO's buildings, the testing of soils on the ASARCO site, and the testing and replacement of soils yard soils in Ruston and North Tacoma. Most Ruston residents had their yards replaced, including extensive their gardens.  Many Ruston residents were proud of their yards and gardens; many people enjoyed gardening and eating the vegetables and fruits they raised. Sherri Forch was one of the Ruston residents whose yard was completely dug up and replaced.
They came in with bulldozers and earthmovers and here in the backyard, they went down 3 feet. You can still see the roots of the apple tree they disturbed. They…would go down 6 inches and take it out to the trailer and test it. If there was still contaminant, they would go down another 6 inches and test it and go down another 6 inches…we got probably, market value, $40,000 worth of landscaping.

They were very responsible about replacing the greenery. Unfortunately they were not so responsible about their fill dirt. It was completely sterile. There was no organic material in it whatsoever. And nothing grew.
Today, Sherri's garden is lush and green, with dahlias, roses, and seasonal vegetables growing in profusion. But it took years to once again build up the soil, and create the richly fertile environment her garden needed. Sherri also uses pesticides now for the first time since moving to Ruston almost 40 years ago. She jokes that the arsenic in Ruston's air must have killed the insects that prey on her vegetables and flowers. Since the smelter closed, she says, she regularly finds earwhigs on her dahlias.
The Ruston School was closed, and children were sent to nearby Tacoma to attend school. ASARCO's buildings were gradually demolished. In 1992, the ASARCO smokestack was dynamited. Sherry remembers:
It was a beautiful day in February; Commencement Bay was just—boats, you probably could have walked across the water for the boats. And even the Vashon Island ferry detoured over into Commencement Bay and waited there so the people on the ferry boat could watch this.

…And it just rumbled and then it tipped, and this huge cloud of dust…It was there all my life … I still miss it. It still should be there.
A key turning point in the prolonged remediation process occurred when the EPA agreed to house ASARCO's most contaminated soils in an onsite containment facility (OCF). Soils from theASARCO site, and from an old ASARCO plant in Everett were placed inside a giant container which is purported to be capable of withstanding earthquakes and other natural disasters in perpetuity. The amount of arsenic in the Everett soils now stored in the OCF is are estimated to be as much as 25%.
The town of Ruston struggled on, surviving on a $100,000 yearly grant from ASARCO, which funded basic municipal services–until the company declared bankruptcy in 2005.
25 years later, public health and environmental concerns linger on in the region. State testing shows that ASARCO's contamination extends for over 1,000 square miles, and reaches into four counties.ASARCO has moved on, shifted its form and sustained its operations in other parts of the US and globally. But it has left its mark on the local community. Chuck O'Donahue argues that this is standard practice for ASARCO.
Sources:
http://yosemite.epa.gov/r10/cleanup.nsf/sites/cbnt
Interview with Chuck O'Donahue, Ruston, WA. May 2006
Interview with Sherri Forch, Ruston, WA. July 2006
ASARCO'S ENVIRONMENTAL PRACTICES EXPOSED
In the 1970's and 1980's Asarco's plants around the U.S. were receiving heightened scrutiny from local, state and federal officials, workers, and environmental groups. In the early 1970's high levels of arsenic were discovered in the urine of children living in Ruston, Washington, next to an Asarco copper smelter, and a University of Washington researcher found that Ruston-area soils had eight times the amount of arsenic as the national average. Members of the United Steelworkers union in Ruston created a newspaper, "The Smelterworker," whose first issue explored the problem of arsenic exposure. According to Rodger Jones, the newspaper's first editor, "If they had concerns about the kids in Ruston and their exposure to arsenic, what about people working in the plant? There's got to be some concern there!" Eventually the entire town of Ruston was declared a Superfund site.
In the early 1980's the National Public Health Service found that cadmium from Asarco's Globeville, Colorado plant, had severely damaged workers' health and threatened local neighborhoods; the plant was closed and several housing projects were demolished because of concerns about cadmium contamination. Asarco facilities in New Jersey, California, New Mexico and Arizona were also closed.
In 1989 a Steelworkers local in Hayden, Arizona discovered that Asarco had been systematically falsifying the results of lung function tests for its Hispanic workers, inflating them by 15% in order to conceal damage to their lungs. The union brought in Dr. David Parkinson from the Department of Community and Preventative Medicine, the State University of New York at Stony Brook, to investigate. In a letter to ASARCO's medical director, Charles Hine, Dr. Parkinson listed a number of pressing medical concerns, including the following:
(1) ASARCO's X-ray machine was not adequate to test larger individuals, and the results of the X-rays were not being properly reported to OSHA.
(2) Pulmonary function testing equipment was obsolete and had not been calibrated for at least two years, so that the readings it produced could not be trusted to be accurate.
(3) The medical records did not consistently show blood lead and urine arsenic test results.
(4) Chemistry test results suggested that workers had illnesses like diabetes or liver enzyme abnormalities—but there was no evidence that the workers had been informed.
In an extensive report, entitled "ARSENIC and ASARCO: The right to know, the right to live," Willie Craig, President of the local, wrote, "If a Hispanic employee has a pulmonary function of 85% of capacity, when using the Company's method, this employee is still rated has having 100% of pulmonary function…This practice instills a false sense of security within the employee." And Craig added, "It seems this practice could have a direct effect on the higher than normal lung cancer rate in the Hayden/Winkleman area" (emphasis in the original document).
Craig also raised questions about ASARCO's fugitive emissions and "the new technology of the flash furnace that began operation in 1983" and which "has greatly increased the amounts and concentrations of carcinogenic substances produced by the Hayden Plant." He concluded:
"It is my belief that the investigation performed has shown that ASARCO has willingly misrepresented medical evidence as gathered through the medical surveillance program at the Hayden Plant Clinic…Also ASARCO has conspired…to distort, misrepresent and mislead its employees, the public sector and various state and federal agencies [regarding] important information needed to protect the workforce and surrounding communities from excessive arsenic exposure."
In the mid-1990's the Copper Fist Coalition in Hayden, Arizona organized over 200 people to file a class action lawsuit against Asarco for serious health impacts, including cancers and birth defects believed to have resulted from Asarco's emissions. The suit was thrown out in early court hearings, then reinstated. It was eventually settled during ASARCO's bankruptcy. The community was awarded $4.8 million, of which 60% is estimated to have gone to attorneys to pay legal fees.
HAZARDOUS WASTE
In the early 1990's, with copper prices falling and many plants shuttered, Asarco contracted with the Department of Defense to accept hazardous waste at its subsidiary, Encycle, in Corpus Christi, Texas. The waste came from DOD facilities at the Rocky Mountain Arsenal and Rocky Flats in Colorado and Tooele, Utah, among others, where napalm, saarin nerve gas, cluster bombs, plutonium and white phosphorous had been produced.
The liquid "quench water" waste was shipped to Encycle, where a concentrate was made and shipped it to Asarco smelters for incineration.
In 1998 the EPA discovered that Encycle/Asarco, rather than storing the Department of Defense-originated hazardous waste, had been illegally burning it at its East Helena, Montana and El Paso plants. It is likely that the waste was shipped to other smelters as well. Under the Resource Conservation and Recovery Act (RCRA) some industrial activities can be regulated as recycling rather than waste management. Encycle and Asarco insisted that the materials they received from the Department of Defense had significant amounts of copper and therefore qualified as replacement for copper ore. EPA concluded, however, that Asarco had engaged in "sham recycling"—incinerating materials with no discernable copper content. The EPA report clearly documented this charge, demonstrating that for almost a decade at least 247 shipments, totaling approximately 5,079 tons of hazardous waste "that had virtually no metals value" had been received at Encycle and "incorporated into Ecycle alleged 'products.' The EPA wrote, "This activity, plain and simple, was illegal treatment and disposal of hazardous waste, since the wastes could not have contributed in any significant way to the production of the metals concentrates."
In 1998 the EPA and Asarco signed two consent decrees, designed to resolve concerns about Asarco's operations and ensure compliance with federal regulations. The first dealt with general operations, safety procedures and training at all Asarco's remaining plants. The second specifically addressed the illegal incineration of hazardous waste. Under the terms of the two agreements Asarco was to submit to regular inspections, produce periodic reports, strengthen its employee safety procedures, and pay over $50 million in fines. In El Paso the company made a commitment to the City of El Paso to spend $370,000 a year to pave city roads.
Under the terms of agreement Asarco did not acknowledge any culpability for hazardous waste incineration. (In 2006 Tom Aldrich, Vice President for Environmental Affairs at Asarco, restated the company's official position: that the materials received from Encycle "contained recyclable quantities of copper" and were "not particularly dangerous to human health or the environment.")
The settlement agreement reached by Asarco and EPA did not include any provisions for testing workers, soil, air, water or community members for exposure to potential contaminants in the Department of Defense wastes. The El Paso community also was not informed about the illegal incineration of hazardous waste. It would be 8 years before the people of the El Paso border region began to discover the truth.
Sources:
Rocky Mountain Arsenal Photographs from National Archives, Washington, D.C.
Encycle photographs from Report Produced by the Texas Natural Resource Commission, 1997
THE BATTLE FOR ASARCO'S AIR PERMIT
In 1999, one year following the EPA consent decrees, ASARCO closed the El Paso plant, citing the falling price of copper as the reason for the closure. The company's official position was that the closure was temporary, but indefinite. The announcement shocked the community. Asarco workers remember the day the closure was announced, and the bewildering rush of emotions they felt. Many went back to school to learn new skills; others sought new jobs (i).
In 1999 Asarco was purchased by its Mexican subsidiary, Grupo Mexico, making Grupo the third-largest copper producer in the world. In 2002 Grupo purchased Asarco's lucrative Peruvian mining affiliate, Southern Peru Copper Corporation, for what the U.S. courts later determined to be a below-market price. As Asarco's assets were transferred across the border to Grupo's books, the Justice Department warned that Asarco might be contemplating bankruptcy. An Asarco bankruptcy would have jeopardized cleanups that had previously been negotiated at Asarco sites throughout the country. As a condition for allowing the sale of Southern Peru Copper, the DOJ required Asarco to establish a $100 million trust fund to support its clean-up activities.
In 2002 ASARCO applied to the Texas Commission on Environmental Quality to renew the air permit which allowed the company to operate. But by this time conditions in the community had changed. El Paso had been relatively free of sulfur dioxide emissions for three years. Former workers had begun to focus on unexplained medical problems that began while working at the smelter. Linkages were developing between the working class communities and environmental groups in El Paso, Juarez and nearby Sunland Park, New Mexico, and people had begun to educate themselves about the dangers of Asarco's emissions. The University of Texas at El Paso was found to have significant levels of lead contamination in its soils. Sunland Park, which had received significant amounts of Asarco's emissions because of the prevailing winds, was identified as one of the most lead-polluted communities in the nation.
Activists have also become concerned about impacts on ground water and aquifers connected to the Rio Grande River, a source of drinking water and irrigation for both El Paso and Mexico. The Texas Commission on Environmental Quality documented levels of arsenic that are significantly above federal standards for drinking water. Other contaminants of concern that exceed federal standards are lead, cadmium, chromium, copper and selenium (ii).
A coalition formed, fueled by concerned residents, students, environmental activists, former Asarco employees, and public officials. Several groups joined in, including Get the Lead Out (El Paso), the Sunland Park Grassroots Environmental Group, ACORN and the Environmental Center of Juarez. Together they focused their energies on educating their communities about the dangers of Asarco's emissions and opposing the renewal of Asarco's air permit. At the University of Texas, El Paso (UTEP), students organized their own movement to oppose Asarco's air permit, Students Against Asarco.
In 2005 Asarco entered into Chapter 11 Bankruptcy, citing its environmental liabilities as the primary cause. Operations at its Arizona mines and last functioning smelter in Hayden, Arizona continued. As part of the court process of corporate reorganization Asarco was removed from Grupo Mexico's control and placed under the control of a board of creditors, which included the company's main union, the United Steelworkers. During this process Asarco continued to press its case to renew its air permit in El Paso.
In October 2005 an Administrative Court issued a nonbinding ruling that Asarco had failed to prove it would change its pollution practices if granted a new air permit. The court recommended that the Texas Commission on Environmental Quality (TCEQ) reject Asarco's air permit application.
In January 2006 the Sierra Club released a study linking Asarco's emissions to soil contamination on both sides of the U.S. Mexico border. The study, conducted by Michael Ketterer, Professor of Chemistry at Northern Arizona University, took 97 soil samples in El Paso, Anapra, New Mexico and Ciudad Juarez, and concluded that the lead in the soil had the same "fingerprint"" (lead isotope ratio) as the lead in ore received from Asarco's Santa Eulalia mine (http://lonestar.sierraclub.org/press/newsreleases/20060131.asp) In May 2007, as the campaign to keep Asarco closed gained momentum, the El Paso City Council voted unanimously to oppose the reopening of Asarco. In June 2007 public officials from El Paso, Sunland Park and Ciudad Juarez met at Monument One, the international area next to the Rio Grande River, and signed a resolution opposing the renewal of Asarco's air permit.
In 2006 researcher and teacher Heather McMurray obtained a copy of the EPA confidential memo about Asarco's "sham recycling." For the first time the community had hard evidence that Asarco had illegally incinerated hazardous waste its El Paso and East Helena, Montana smelters. In an interview Ms. McMurray explained:
We know that Asarco had a subsidiary, Encycle, in Corpus Christi. Encycle processed hazardous waste. It was a recycling center. They were supposed to pull out metals from the product or send the materials to our smelter here or in East Helena that had metals in them that could be smelted out. Instead of doing that they sent us stuff that had no metals value in it. There was no reason, it was not legal for them to send that here without permitting us as a hazardous waste incinerator. But they did it, and finally the EPA caught them. When [the EPA] caught them they kept it secret, they didn't want to let anyone know. We don't know why they wanted to keep it secret, but ASARCO smelted the stuff for almost a decade illegally, and then covered it up through the government for another seven-eight years.
In fall 2006 the New York Times published a story based on Heather McMurray's findings: "A bankrupt copper giant facing billions of dollars in pollution claims…pretended for years to recycle metals while illegally burning hazardous waste in a notorious El Paso smelter" (iii).  Since that time members of the border coalition have continued to uncover information relating to Encycle/El Paso's illegal shipments of hazardous waste to smelters, and the incineration of the waste in Asarco's stacks.
Despite 6 years of hard work by environmental activists, former Asarco employees, public officials, university students, and residents of El Paso, Juarez and Anapra, the TCEQ, at a final hearing in Austin, Texas, in February 2008, agreed to grant Asarco a renewed air permit, provided that the company could demonstrate that the shuttered plant was still operable and could meet the guidelines set for state emissions.
In April 2008 three years into Asarco's bankruptcy process, the Arizona Republic reported, "an unprecedented rise in copper prices, bankruptcy and dedicated managers have helped transform…Asarco LLC from a financial train wreck into a solid business with $1 billion in cash, no operating debt and a promising future" (April 16, 2008).
In February 2009 the EPA told Texas officials that under federal law the smelter did not qualify for the permit renewal granted by the TCEQ.
On the same day Asarco announced it was dropping its plan to reopen the Asarco smelter. The company attributed its decision to "a dramatic downturn of the world economy" (Dallas Morning News, February 4, 2009).
Sources:
A VERY CLEAR "NO!" by Carlos Rodriguez
Carlos Rodriguez lives and works in El Paso, Texas. He worked for ASARCO for 30 years as an electrician. Carlos is a leader in the Ex-Asarco Employees Group which fought to prevent ASARCO from renewing its air permit in 2008. Carlos wrote this essay during the air permit struggle. Read the full article…
Cananea
This article, about the struggle of Mexican Miners Union, against Grupo Mexico and the Mexican government, is reprinted by permission of Dollars and Sense.
Crossing the Border to Cananea: High Stakes and Teachable Moments for North American Workers
This report was written by our solidarity delegation to Cananea, sponsored by the United Association for Labor Education.
Links:
David Bacon's report on US-Mexican labor solidarity
http://www.cipamericas.org/wp-content/uploads/2011/05/culture-of-solidarity.pdf
David Bacon's website of articles and photographs, many about Cananea
Publications by the Maquiladora Health and Safety Support Network about health and safety conditions at the Cananea mine
Cananea Copper Mine, An International Effort to Improve Hazardous Working Conditions in Mexico – IJOEH Jan09
CananeaOHSReport – 2007 – Maquila Health and Safety Support Network
Northport, WA: Researching Illness on the Upper Columbia River
Although our project has focused on a small number of ASARCO-impacted communities, we've also been fortunate to connect with communities who are engaged in similar struggles–although with different mining and smelting companies. This page is devoted to Northport, Washington, a small community of less than 400 people in northeast Washington State. We recently spent a weekend in Northport to screen our documentary, Under the Stack, and meet with community activists and researchers from Citizens for a Clean Columbia (CCC). The community is in the midst of an impressive effort to document the impacts of pollution emitted by TECK, a large lead and zinc smelter located a few miles upriver in Trail, British Columbia, Canada.
Residents of Northport are experiencing disturbingly high levels of ulcerative colitis and Crohn's, two rare forms of inflammatory bowel disease (IBD). Their blog, https://northportproject.com/, maintained by local activist Jamie Paparich, chronicles TECK's activities and the community's efforts to determine the consequences for Northport. The blog reports on a recent community health study by researchers from Massachusetts General Hospital and the Harvard School of Medicine which concluded that "cases of Colitis and Crohn's diagnosed in Northport residents were 11.5 to 15 times higher than in the general population." According to the Northport Project website, the researchers say this is the largest IBD cluster they have ever seen. A follow-up study is planned for fall 2016.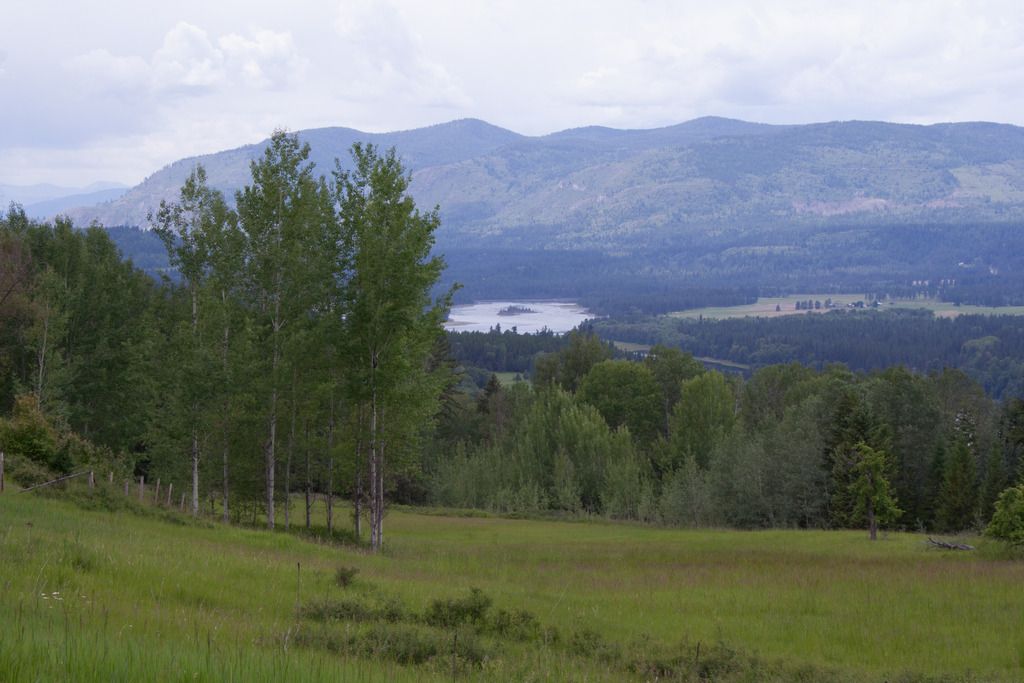 Northport is located in a valley along the Columbia River, just a few miles south of the U.S.-Canada border. It's a beautiful area, with rolling green hills, broad pastures, and gorgeous views. In the early 20th century, the Northport Smelter was located here, but it closed in 1922. But as we learned, Northport and its neighbors struggle with the impacts of a century of waste materials dumped into the Columbia River and emitted through its stacks by another smelter, TECK (formerly TECK COMINCO). Arsenic, lead, cadmium and other heavy metals have been found in area soils. In 1999 the Colville Confederated Tribes, whose lands are not far from Northport, requested that the EPA assess contamination in the Upper Columbia River. In 2001 the EPA agreed to conduct preliminary assessments and site inspections at 39 mine and mill sites, including sites in Northport. After finding higher than normal amounts of heavy metals in Northport's soil, they returned in 2004 to offer yard testing and soil replacement to Northport residents. The Washington State Department of Ecology was designated to advise the EPA on technical issues and environmental clean-up requirements. The State Department of Health was also supposed to review findings that could impact community health (https://yosemite.epa.gov/R10/CLEANUP.NSF/9f3c21896330b4898825687b007a0f33/f19e164188a9e53088256e170008610d/$FILE/leroi%20FAQs.pdf).
This process also found hazardous waste contamination in Upper Columbia River sediments, including cadmium, copper, lead, mercury, zinc, dioxins and furans, and fish advisories were issued for a variety of Columbia River species.
In 2005 the Colville Confederated Tribes, joined by the EPA and the State of Washington, sued TECK for damages to the Columbia River caused by a century of dumping waste materials (slag). The suit was finally concluded in 2012, when Judge Lonny Suko of the U.S. District Court in Yakima ruled that TECK is liable under U.S. environmental law. In his ruling, the Judge stated, "for decades TECK leadership knew its slag and effluent flowed…downstream…but neverthleless TECK continued discharging wastes into the Columbia River." The EPA has already begun clearing polluted sediments, but the suit gives the U.S. agency the power to force TECK to fund the cleanup (http://www.prnewswire.com/news-releases/colville-tribes-win-long-running-environmental-lawsuit-against-teck-metals-183585251.html).
Northport has experienced what community researcher and advocate Jamie Paparich calls "a perfect storm of events" that fuels a quest to understand how the impacts of long-term smelter contamination may have affected the health of many of its citizens. Northport is only a few miles from the border with British Columbia. Because the river rounds a bend just before reaching Northport and slows down, smelter slag was deposited on the community's beaches, where children regularly swam in the summer. One beach was known as the "Black Sand Beach," and residents tell of playing in the black stuff when they were children (https://fortress.wa.gov/ecy/gsp/Sitepage.aspx?csid=2036). Toxic air emissions crossed the U.S.-Canada border and were trapped in Northport's valley. The emissions were particularly concentrated along Northport's Mitchell Road, creating what the EPA has called a "heavy fallout zone". Today, the residents of Mitchell Road are among those most affected by disease. Community members are seeking to understand if there are connections between the toxic smelter emissions and the illnesses that plague them, as well as the long-term consequences to their environment.
Ulcerative colitis creates inflamation and ulcers in the colon and rectum. It is painful and debilitating, and can be life-threatening. Crohn's disease can occur in any part of the GI tract, including the mouth, esophagus, liver, stomach, colon and anus. Both diseases are thought to result from a combination of inherited genes, vulnerabilities in the immune system and environmental impacts. Both can be treated, but neither has a cure.
The Northport Project website chronicles the attempts by the Washington State Department of Ecology and the EPA to monitor and curb Teck's emissions. One concern raised by Northport activists is that air monitoring tests conducted by the Department of Ecology from 1992-98 showed elevated levels of arsenic and cadmium. Jamie reports that Teck obtained a new permit "based on the condition that TECK continued to monitor Northport's air quality and update Ecology quarterly." But, she adds, "If TECK has an air monitor, in or near, Northport, they are not sharing the data with anyone." The Northport researchers have since discovered that TECK maintained a monitor in Northport until 2006. The results show that arsenic and cadmium continued to be "way above safety standards and risk-based concentrations." (for further information, please see: "Air Monitoring in Northport, parts I, II and III" on the Northport Project website.
During our visit we were fortunate to be able to meet with members of the Citizens for a Clean Columbia group, including Joe Wickman, who currently offers technical support to the EPA, Bob Jackman, whose research has been critical to understanding the science and law of pollution that crosses jurisdictional boundaries, and Jamie Paparich. We also conducted a videotaped interview with Jamie, Rosemarie Phillips, Julie Sowards and Rose Kalamarides, all residents of Mitchell Rd., "the heavy fallout zone."
The interview is available here.
To learn more about Northport, see:
The Northport Project: https://northportproject.com/
"Superfund: US law's reach at heart of epic cross-border cleanup fight"  Jeremy Jacobs, November 24, 2015  www.eenews.net/stories/1060028510
"Study shows elevated rate of bowel disease in Washington town downstream of B.C.'s Trail Smelter"  Larry Pynn, Vancouver Sun August 14 2012
www.vancouversun.com/health/Study+shows+elevated+rate+bowel+disease+Washington+town+downstream+Trail+smelter/7096684/story.html
Cananea
Community Voices
El Paso, TX
Hayden, AZ
Northport, WA
Ruston, WA